The old saying goes "what you see is what you get" but at Hometown Sheds that's far from the truth. We are happy to change up what you see, and accommodate special requests from our customers and create a customized shed to fit your needs.
Creating The Perfect Exterior. What happens when you find the perfect wooden shed but it just won't match your home? Simple, paint! We are happy to offer custom Sherwin Williams paints to customize the exterior of your wooden shed. You can choose from literally thousands of colors and hues to match your home or HOA requirements. We can even color match your existing buildings or structures.
An added-benefit customization is insulating walls and roofing. Keep your belongings warmer in the winter and cooler in the summer with insulation, and even help prevent interior humidity. If you'll be storing heavy equipment or machinery, double it up – the floors that is. Double floors add an extra layer of stability perfect for weight rooms and heavy tools. As always, door and window options are up to you as well – roll up, double doors, and even our two in one utility ramp door option which make loading and unloading a breeze.
Our buildings are always built locally from the ground up. They're made to last and you can even add roofing made to stand the test of time. The wooden buildings at Hometown Sheds have a standard steel roof but you can upgrade to 30 years architectural shingles as well.
The Inside Matters. If you're using your building for a workspace, you can choose to add extra shelving, a peg board for tools, or a workbench for all of those extra projects. One of our recent customers even requested extra long stacker shelves like the ones below. Ask us and we can make it happen!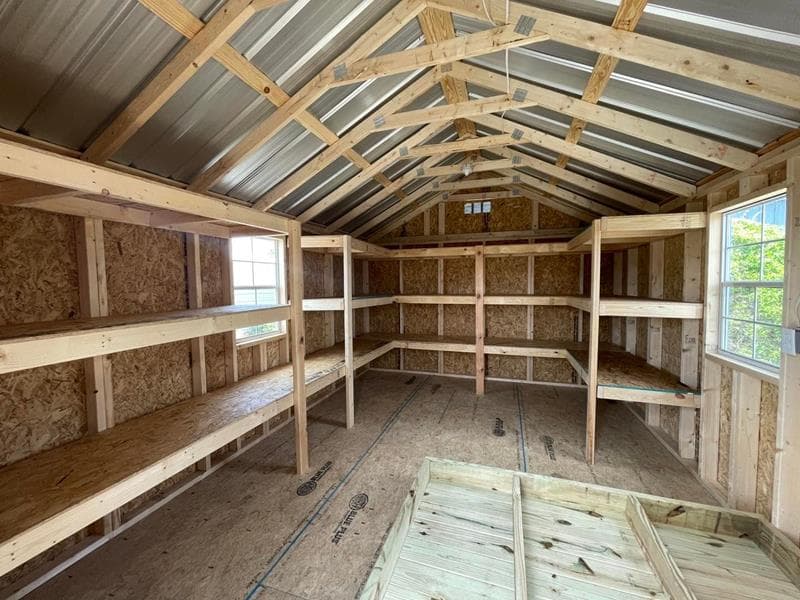 Lofts are an additional option on many sheds. Lofts create ideal overhead storage – think ladders, Christmas decorations, or long yard tools. Use your building around the clock, literally, by adding an electrical package. Light up the night or simply plug your power tools right in. Adding partition walls will keep everything together in your shed while staying apart in separate areas. Imagine one area for work storage and one for home.
If you've been dreaming up a new shed or building but don't think it's possible, just ask! You won't find cookie cutter buildings at Hometown Sheds! With our multiple financing options we make creating a unique, one of a kind storage solution within reach, too. Stop by or call us today to get started creating a shed for YOU!